TEST SITES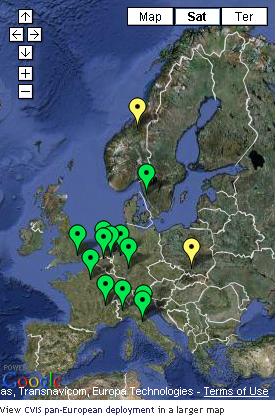 The CVIS demonstration activities take place at a total of seven test sites. Each test site features participation of local road authorities and operators, system integrators, suppliers, vehicle manufacturers, and service providers.
A major objective of the demonstrations will be to establish if the CVIS applications do really function as they are expected and intended, and to assess their possible unintended negative effects. The other principal aim is to evaluate the technology, especially its performance and reliability.
Every opportunity will be sought to involve the general public at those tests, e.g. by invitation to a panel of motoring association members to view and try out the systems on test (e.g. in Germany, the Netherlands, Belgium and Italy).
The 2009 ITS World Congress was held in Stockholm. The Swedish Road Administration is a partner in the project, as are Volvo, Gatespace Telematics and Kapsch Traficom amongst others. The CVIS consortium held a major showcase for the CVIS developments.
The seven separate Test Sites are described briefly below.
SP4.1 FRANCE
Objectives:
Demonstrate in both urban and motorway environments Freight & Fleet applications that will improve safety and efficiency
Combine cars and truck demonstrations in both urban and interurban environments for Enhanced Driver Awareness applications
The French Test Site (Lyon) will combine vehicle suppliers/in-vehicle system suppliers (Volvo), map suppliers (NAVTEQ), road operators (ASF), Research institutes (LCPC), traffic equipment suppliers (LACROIX-Traffic, CNRS/UTC) and public authorities (Communauté Urbaine de Lyon).
SP4.2 GERMANY
Objectives:
Use the whole trunk of the Hessen network to demonstrate Cooperative Traveller Assistance interurban applications
Demonstrate Enhanced Driver Awareness in an inter-urban environment
Test cooperative monitoring applications on more than 10 junctions on a secondary network in the vicinity of a motorway
The German Test Site (Dortmund and Hessen) will combine OEM (DaimlerChrysler), service providers (PTV, DaimlerChrysler, BMW), network operators (HSVV, Highways Agency, City of Dortmund), in-vehicle system suppliers (DaimlerChrysler, BMW, Siemens), software providers/system integrators (PTV, DaimlerChrysler, BMW, Traffic Centre Hessen).
SP4.3 ITALY
Objectives:
Demonstrate cooperative network management and cooperative area routing on 20 to 30 vehicles in an urban location (Torino)
Test cooperative monitoring and positioning functions on around 100 vehicles in an urban location (Torino)
Demonstrate access control to sensitive areas and cooperative traveller's assistance in different highway sections (Torino–Caselle, Torino-Firenze for the latter two)
Demonstrate dynamic bus lanes in an urban location (Bologna)
The Italian Test Site will combine OEM (CRF), service providers/system integrators (Mizar Automazione, Infoblu, Mizar Mediaservice, Peek, Telecom Italia), network operators (Infoblu, 5T) in-vehicle system suppliers (Thetis, Mizar Automazione, Mizar Mediaservice, CRF), telecom operator (Telecom Italia) and public transport operators (ATC Bologna).
SP4.4 NETHERLANDS-BELGIUM
Objectives:
Demonstrate cooperative monitoring, network management and cooperative acceleration/deceleration application in both interurban and urban environments
Demonstrate cooperative parking zones in restricted areas and parking zones
Test cooperative traveller's assistance application in urban areas of Rotterdam and Antwerp
The Dutch-Belgian Test Site will combine service providers (TNO, Vialis), network operators (Rijkwaterstaat, Provincie Noord-Brabant, Vlaams gewest), telecom operators (Vodafone, KPN), IVS supplier (TNO), software provider/system integrator (Peek, Vialis, LogicaCMG) and map supplier (NAVTEQ)
SP4.5 SWEDEN

Objective:
Demonstrate cooperative monitoring, enhanced driver awareness and dangerous goods track and trace applications in motorways and local roads around Gothenburg.
The Swedish Test Site partners include service provider/road network operator (SRA), vehicle supplier/ in-vehicle system supplier (Volvo), software provider/system integrator (Volvo, PTV), map/database supplier (SRA).
SP4.6 UK

Objective:
Demonstrate automatic detection of vehicle location, provision of parking/loading space booking facilities and links to in-vehicle routing systems
The UK Test Site (London) will combine public authorities (TfL), telcom operators (British Telecom), retail distribution operators (Exel logistics, Tradeteam and TNT) and a university (CTS).
Associated Test Site Norway
From September 2009, CVIS demonstartion activities also take place in "Test Site Norway", the primary Norwegian site for testing and validation of new ITS technology, applications and services. The test site includes the main road network in the city of Trondheim and also encompasses:
instrumented roads with wireless communication technologies based on CALM, including support for 5.9 GHz vehicle-to-roadside communication.
instrumented vehicles for use in project activities and for demonstration.
infrastructure with instrumented multi-modal transport network.
driving simulator including models and real-time feeds from the road network in Trondheim.
14 street lab stations and 4 rooftop lab stations.