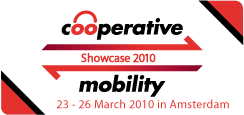 As part of Europe's first Cooperative Mobility Showcase 2010 in Amsterdam, a high level Conference will take place from 24-26 March. The opening day features VIP speakers including Camiel Eurlings (Dutch Minister of Transport), Helmut Matschi (Member of Board, Continental), Alessandro Coda (EUCAR Research Coordinator), Giovanni Colombo (European Institute of Technology), Gilles Vesco (Vice-president for Mobility, Communauté urbaine de Lyon), who will all address future visions of cooperative mobility and how to achieve them.


Three days of inspiring presentations, challenging debates and high-level discussions will bring you:
The latest developments in the field of vehicle-to-vehicle and vehicle-to-infrastructure communication technologies, applications and services.

The key final results of the COOPERS, CVIS, SAFESPOT projects.

Insight into cooperative mobility's contribution to road safety, efficiency and mobility as well as reduced environmental impact.

How Europe is mobilising to create a market and implement cooperative mobility.

Ideas and solutions for overcoming the barriers created by liability and privacy issues, and for meeting the need for regulation and standardisation.
Please download the preliminary programme and register on the Showcase website

This conference is co-organised by the European Commission, the Dutch Ministry of Transport, Public Works and Water Management, the leading cooperative mobility projects COOPERS, CVIS, SAFESPOT, as well as Amsterdam RAI.

Cooperative Mobility Showcase 2010

Leading industry and service organisations such as Fiat Research Centre, Daimler, Renault, Volvo Technology, Logica, Mizar Automazione, Peek Traffic, PTV, Q-Free, Robert Bosch GmbH, Magneti Marelli, Cofiroute, ASFA, Efkon, Asfinag, TomTom (Tele Atlas), RACC and ERTICO – ITS Europe will demonstrate the benefits of connecting smart vehicles with each other and with intelligent roads.

Delegates will see, hear and experience for themselves the very latest developments in cooperative ITS, such as:
The cooperative intersection, intelligent routing, hazard & incident warning, truck parking and loading management, and frontal collision warning

How cooperative mobility contributes to quicker, safer and cleaner transport

Future visions of cooperative mobility

Roadmaps to widespread deployment and market growth

How international deployment barriers can be overcome
The Cooperative Mobility Showcase 2010 comprises three interrelated events:
The high level Cooperative Mobility Conference detailed above (24-26 March)

Extensive live on-road demonstrations (open only to registered delegates)

The i&CDrive exhibition.