COMMUNICATIONS AND NETWORKING
Road safety and sustainable mobility require communications means that simply do not exist today. Most of the building block for a good communication system is already there, but so far they have not been systemised and standardised.
What is needed is a communication subsystem that:
Is available wherever and whenever a vehicle is present in a traffic situation
Can communicate vehicle-vehicle and vehicle-roadside in a transparent way
Relieves the applications from the need to know about communications setup and management
Uses modern Internet techniques and standards for global usability
Provides a range of different possibilities related to data speeds, communication distance, cost and many other parameters.
The last three years has seen a significant effort in the design of new standards in this field. ISO TC204 WG16 has provided a series of draft standards under the acronym CALM (Continuous Air interface for Long and Medium range). This work is a truly global effort since this mobility challenge is global in its scope.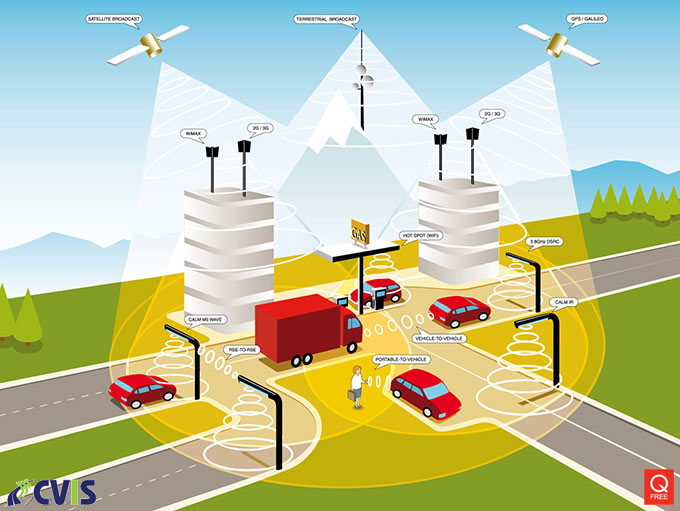 Objectives
The COMM sub-projectís primary aim is to provide a open reference design communication system that fulfils the requirements above. The keywords for these requirements are availability, connectivity, flexibility, and transparency.

The CVIS prototypes and designs will mostly be based on existing techniques and components since the CVIS innovation is largely in the architecture combining the different medias with IPv6 and adding advanced network management. There is no intention to develop optimised products as part of CVIS since that would hinder the open reference design philosophy. The resulting prototype designs can be used directly as non-optimal products, or used as a basis for developing more cost-optimal products.

Cooperative systems are systems that can interact real-time and that can organise behaviour at decentralised levels. One of the key enablers for cooperative services is therefore a system that allows communication at every location, at any time and also to everybody (ubiquitous communications).
Today, many different communication bearers exist, each one optimised for a specific set of applications. Some cannot not be used for mobile applications, some only at low speeds, some at high speed but at low bandwidths, some can only be broadcast, etc.
In addition to existing bearers, the industry is working on adapting existing communication technologies to provide support in a mobile environment. Among the most important for the CVIS project are the M5, IR and MM technologies. M5 will support omni-directional communication between moving objects with a minimum data rate of 6 Mbps up to 300 meters radius. Itís particularly useful for vehicle-to-vehicle and low-directive vehicle-roadside communication. IR complements this by providing highly directive beams with a typical performance of 2 Mbps up to 100 m range. MM allows for much higher data rates (on the order of Gbps) in the range of several hundred meters. Directional communication is useful since the communication range can be confined to a specific object of set of mobile objects.
Itís clear that one perfect communication technology does not exist. The choice of communication bearer should always be optimised with respect to the requirements posed by the service and environment. For this reason there is an increasing need for an integrated solution that comprises the most important communication bearers and hides its heterogeneity. Such a framework for communication would need to comprise the functionality for sending bits and bytes (low-level communication) for the different bearers, as well as for the management thereof allowing for a seamless transfer of one bearer to another when conditions require.
This integrated solution does not exist currently. The CALM community (TC204 WG16) is working on the specifications for CALM, currently the most important development for integrated communication solutions, with draft standards available for the majority of the core functions. Also the Internet standardisation community are providing missing parts to allow a truly open end-to-end connectivity over the Internet.
Results
The CVIS communication subproject will provide the following results:
Specify and implement a communication system that fulfils the requirements set by the user community of CVIS within the framework and capabilities of the communication modules selected for CVIS.
Make the communication system available as prototype devices to various test beds and field trial sites during the project, and later as open reference designs through open source IPR agreements.
Provide a continuous two-way contact to the relevant ISO, ETSI, IEEE and IETF standardisation groups so that by the end of the CVIS project, the European as well as the global standards are matched as close as possible to the CVIS open reference designs.
The communication media actively considered in CVIS are:
CALM Infrared light communication
CALM M5 radio communication at 5 GHz frequency bands.
CALM MM radio communication at frequencies above 40 GHz
CALM 2G/3G Cellular radio technology
CEN Digital Short Range Communication at 5,8 GHz
Protocol functionalities considered in CVIS are:
Mobile IPv6 routing functionality
Geographically mapped IPv6 addressing
Fast location addressing
Real-time data exchange
CALM management CME / NME
CALM interface management IME.
Applications and key concepts

The COMM subproject will provide two reference units:
One communication router that will handle all the communication and routing functionalities
One host computer that will run the applications that will be demonstrated in CVIS.
The host computer and communication router will essentially provide the backbone of the CVIS vehicle, roadside and central systems that will be connected via internet technology.
The three CVIS technical sub-systems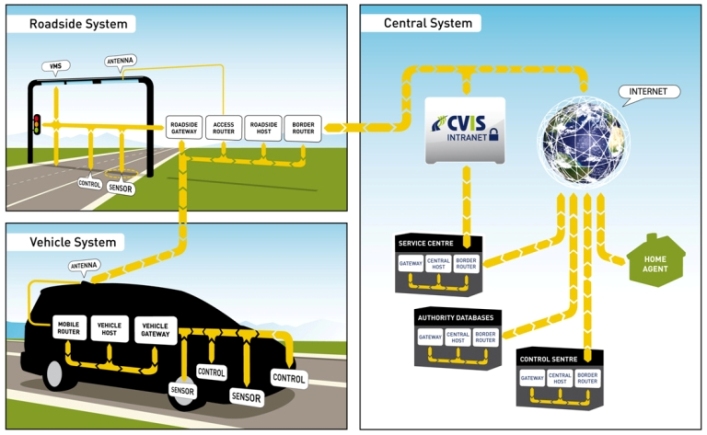 Events and Milestones

The COMM subproject focuses on two main milestones at the IP level:
Communication submodules ready for integration (August 2007)
Integrated, tested and ready for field trials (January 2009)
The subproject contributes to a series of requirements, specifications, implementations, tests and validations over its 48-month lifespan starting in February 2006. The table below shows the different deliveries and delivery month at the subproject level. These deliveries also feed into the deliveries at the CVIS project level.
M6
D.COMM.2.1 Use cases and system requirements
M13
D.COMM.3.1 Architecture and system requirements
M16
D.COMM.6.1 Validation plan
M34
D.COMM.4.1 Communications and networking for localised directional communications
M34
D.COMM.4.2 Communications and networking for localised omni-directional communications
M34
D.COMM.4.3 Communications and networking for wide-area communications
M34
D.COMM.4.4 Common reference execution platform
M42
D.COMM.6.2 Validation results
M44
D.COMM.1.2 Final report
M44
D.COMM.2.2 Final system requirements
M44
D.COMM.3.2 Final architecture and system specifications
M7-M38
D.COMM.7.3 Workshops

ē M7 Requirements workshop
ē M16 Architecture workshop
ē M38 Validation workshop
Contact

Erik Olsen
COMM Sub-project Leader
Q-free
E-mail: erik.olsen@q-free.com
Sub-Project Partners